Poetry
Like many writers I dabbled with poetry as soon as I hit middle school. Yet it wasn't until I got to high school that I really gave any deep consideration to poetry as a part of my life. I attended Parkway South High's Beat Café; a spoken word poetry club that met once a week.
I prefer to write free verse poetry, and many of my poems are written to be read aloud rather than just viewed on paper. I write mainly about the concrete world and human experience within and in regards to it. Many of my poems are narrative, though not always biographical.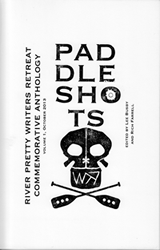 Published Works
I am lucky to have already had three of my poems published at such a relatively young age. The first piece was published the spring I graduate from high school, and the second two pieces were published in the same anthology during my third year in college.
Paddle Shots: A River Pretty Anthology, Vol. 1. 2013
January 6, 2012
Scholastic Art and Writing Awards: Regional Gold Key 2011
Unpublished Examples
In addition to my published work I have provided examples of other poems I have written.
Occasional Comfort Derived from the Correct Hang of Toilet Tissue